Normally, when I work on a PC and build it from the ground up, it takes like two hours to nearly half a day. Since I've started with rebuilding, cleaning, repairing and upgrading my gaming rig, six days have passed. The intention actually is to make it as good as possible. I don't want no hidden rubbish areas in my chassis and most importantly no dust. Old builds of my PC always included weird cable constellations and packed cable  trees in narrow corner. I tried to avoid things like this in this very build.
It takes a lot – and I mean a looot of time – to get all things arranged as one can possibly can. The mainboard alone was put around 6 – 8 times in the chassis. Main problem with the board was the backplate that was using too much space and could cause short-circuits. I finally found a good solution using less space and definitely not responsible for eventually upcoming short-circuits.
Another point is, well, it's this kind of fetish of mine. I always use to put as much components in my PCs as possible. My working rig is somehow different, but mostly every PC I own is always packed. And by saying packed, I mean packed.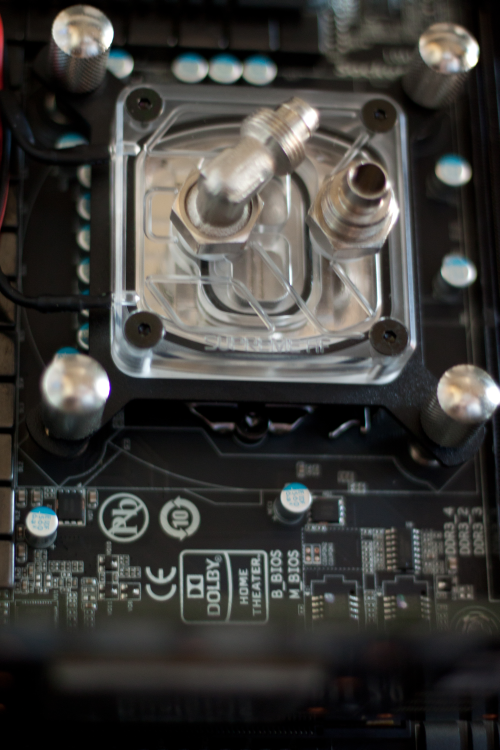 As you may know, the PC uses water cooling. Until now you can only find a water block on the CPU and a couple of tubes wandering through the chassis. The water pump is already installed, too. This time I decided to put the pump a little differently inside to gain a little bit more space inside. Additionally did I put some foam around the pump to minimize vibrations going on to the frame of the chassis causing noises. I also have plenty of room to do some quick maintenances in the case of an incident.
My new graphics card is going to be delivered this day's afternoon and I'll probably go to finish this PC by today's evening. I was very lucky to get a 64GB SSD pretty cheap that I'm able to use ISRT immediately. I hope that it's going to work with an previously set up RAID0, the storage solution that I always use for my system- and games partitions.
Anyhow, I'm pretty excited and nervous today and hopefully everything is getting well. I haven't been working on a PC for such a long time before I finally started it and hopefully it's going to be a good harbringer.